Google Voice for business is a cloud-based business telephone system that has features such as auto attendant, call transfer, voicemail and one-button calling among users.
This "cloud telephony for Google Workspace" offering may be disruptive to the entire business telephony industry.
Why? Because Google has a service that competes directly with popular business VoIP (Voice over Internet Protocol) providers like Vonage, RingCentral, 8×8 and Ooma. These vendors all offer an alternative to traditional landline service.
Granted, most of these players have been around for a while and have all feature rich offerings.
However, Google has the inside track for Google Workspace customers. Google Voice for businesses honors Google Calendar's working hours. The voice offering integrates with Google Meet.
Google Voice pricing is month to month with no long term contracts. This means that a business can drop user licenses during slow periods and add user licenses when things get busy.
Google Voice for Businesses Pricing
Voice is a paid add-on service for Google Workspace customers. There are three levels of pricing:
Starter
The $10 per user per month Starter plan caps out at 10 users. There is no support for desktop phones at this level. Users need to make and receive calls through their desktop, tablet or mobile device.
A wireless headset to consider is the Plantronics Savi 8200 Series. A wired headset is the Plantronics Blackwire C5220.
Standard
The $20 per user per month Standard plan supports unlimited users. Four models of Polycom desk phones are supported at this level. Those models are:
Any of these phones can be plugged into a home router. With sufficient internet speed, a Polycom phone will operate at home just as it does in an office.
Google Workspace customers that are currently using legacy PBX systems can move to a cloud based phone system. Existing telephone numbers can be ported. Employees can have fully featured business desk phones in their home offices.
Automated Attendant and ring groups are included in this plan.
Your customer callers and your distributed workforce
With the Standard plan, if someone calls your main business telephone number and presses, say, 1 for customer care—fully featured business phones can simultaneously ring in the home offices of your remote customer care staff.
There's no need for your customers to hear a message like the following, which was clipped from an actual automated attendant greeting:


With Google Voice, any available customer care team member can answer, no matter where they're located.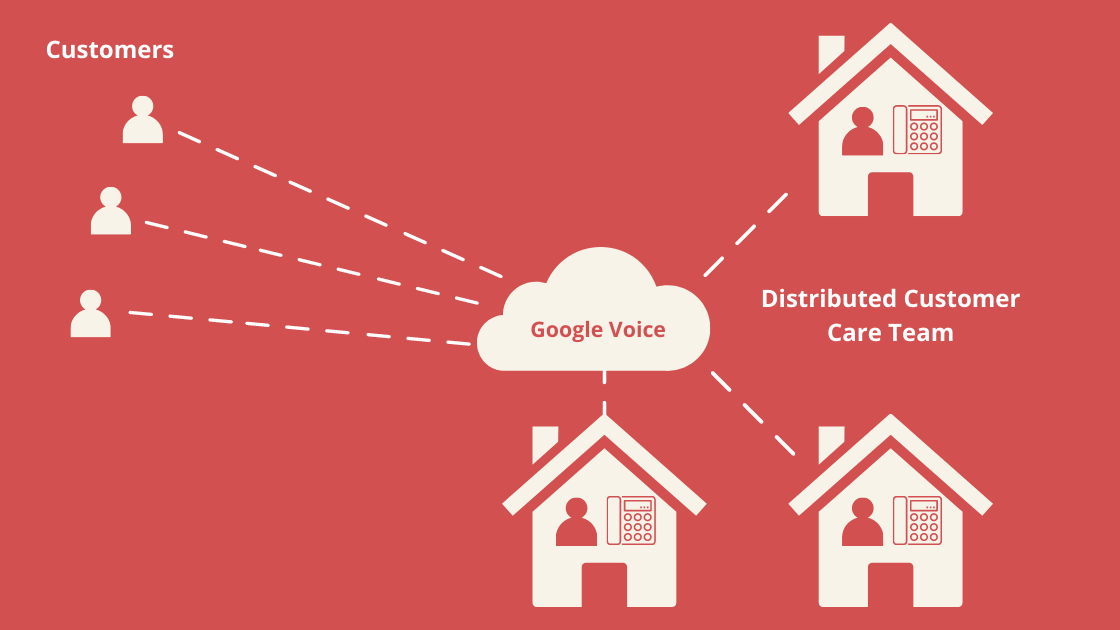 Premier
The $30 per user per month Premier plan includes advanced reporting via BigQuery. It appears this version is required to support users outside of the United States. There are also plans for this version to support Data Regions. This means that customers will be able to include/exclude data centers by region.
All versions of Voice support Android & iOS apps. All versions have "intelligent spam call protection" and automated voicemail transcription.
How a Business Can Subscribe to Voice
Google Voice user licenses can be ordered from the Google Workspace Admin Console. The order screen is several levels deep—here's how a Google Workspace admin can get to it:
1. From the Google Workspace Admin Console, select Apps
2. From Apps*, select Additional Google Services
3. In the next screen, click ADD SERVICES in the top right
4. Click the GET STARTED button for the Google Voice plan you want
5. Follow the prompts to place an order
*Ignore the Google Voice option in the Apps listing. This is the legacy, single user phone number.
Network Setup
Before signing up for Google Voice, your company's network should be configured and optimized for VoIP traffic. Google provides a set of voice connectivity requirements.
Availability
Google Voice is currently available in the following countries. Check here for updates.
Canada
Denmark
France
Germany
Ireland
Italy
Netherlands
Portugal
Spain
Sweden
Switzerland
U.K.
U.S.